Campaign Advisory Group
Who we are working with
We know ending health barriers for deaf people is a massive challenge, but it is a challenge that needs to be a collaborative effort.
Our Campaign Advisory Group includes 18 deaf people from across the UK coming together to share their perspectives, lived experiences and ideas for the campaign to create change. Find out more about our first meeting here.
We have Campaign Champions, SignHealth staff from the domestic abuse, communications and social care teams. In addition, the campaign also has input from external stakeholders who are professionals, community members, campaign supporters and funders.
Meet the Campaign Advisory Group
At the moment, I am not in employment as I was diagnosed with Usher's Syndrome which affects my ability to work. So now, I am a stay at home husband! I also do crafts and woodworking.

I used to work for a residential care home supporting people with their mental health, people who were vulnerable and needed support. Because of this, I joined the campaign advisory group, but not only for that reason. I've also faced barriers as a deaf person with Usher's syndrome at the hospital, with the GP, with dentists, with social workers. This frustrates me, and affects my mental health. So looking back at my job in the residential care home, I completely empathise with the people I worked with, because I have that lived experience. Now, I'm pushing forward with spreading deaf awareness, explaining the barriers deaf people face, and my own lived experiences.
I recently completed my BA (Hons) degree in Photography at the University of Plymouth. I'm flexible about creative projects and currently exploring photography jobs from home.

The reason I joined this advisory group is to gain valuable learning experiences, engage in discussions from different perspectives, and explore various options.

Additionally, I am keen to discuss ways to improve wellbeing and provide accessibility. I have been involved in training workshop projects focusing which aim to educate Black students and individuals about Black culture. I believe that involving them in discussions on diverse ways of life, culture, and identity will enrich my own learning experiences.
I am an advocate who focuses on inspiring young girls and women to become more self-aware and resilient in all that they do. I was diagnosed with severe hearing loss at the age of 4. I have worn hearing aids in both ears since then. Due to my experience growing up with bullying and the negative stigma attached to my hearing loss, I've taken to social media countless times to share inspiring content both on self-love and my experiences living with my disability. So far, my experience has led to brand campaigns in which I've been able to touch on the topic of self-love and owning my story through being a guest speaker at various events surrounding the topic of embracing your authentic self.

When I'm not doing that, I work in technology at a global luxury brand. I am also the co-founder of Keïta Lagos, a brand focused on bringing Africa to the fore. I also founded my NGO, the Amigo Charity in 2015, with the aim of changing the lives of people who are at a disadvantage.

I joined the advisory board because I want to live in a world where deaf people do not have to struggle to be heard. A world in which deaf people confidently tell their stories. Where deaf people are on the cutting edge of a brighter future. A world in which we can tell our stories freely.
I am currently working for NDCS (National Deaf Children's Society). I joined the advisory group because I know how important campaigns, especially those promoting social change, are. They play a crucial role in making our voices heard. When people come together and work collectively, it empowers our community to strive towards a better future.

Furthermore, as a deaf, Asian, and Muslim individual, I have completed a degree in mental health and wellbeing in children. Having personally experienced challenges with mental health, I have witnessed the stigma that exists within my community. By joining this group, I aim to support our community and create a significant impact towards a better future.
I work as a Deaf communication specialist to support deaf children and young people aged 0-25 under Hertfordshire County Council. The reason I want to join the campaign advisory group is because of my personal experience.
I joined the advisory group because of my personal and professional experiences. Personally, I grew up attending mainstream school – the sign I use means isolated and not integrated and it really was isolating. I struggled to get by in mainstream school, I was disempowered and not doing well.

When I finally attended a deaf school, I was impacted so strongly by having deaf children my age as my peers. I saw how they got on and asserted themselves and so on, and it was a lightbulb moment – that is how it should be. Honestly, if I had not had that (experience), I'd be a very different person.

Professionally, I work as a mental health nurse and have done for 17 years. In my experience, deaf people's access to mental health services are very far from perfect. I hope to support SignHealth to make progress in this area.
I am 30 years old and based in Leeds. I often travel up and down the country for my job which is called DEAF IDENTITY. It is an online fashion brand raising deaf awareness through clothing and accessories! Most of my time is spent working on my business but I also do content creation and use my social media platforms to speak out on deaf awareness related issues and to also share my experiences on what it is like to be a deaf, gay man.

I am very proud to be a part of SignHealth's Advisory Group. I am passionate in showing that being deaf sits on a spectrum and that there is no right or wrong way to be deaf. I want to empower other deaf people out there to feel strong within their own deaf identities. We can lead the way in the business field by empowering other deaf people to run their own businesses and to not let what society sees as a 'negative' hold them back.

I hope that by using my own lived experiences I am able to channel this into positive change and help SignHealth implement these within their own campaigns moving forward.
Catherine Drew
I live in Edinburgh but my hometown is Glasgow where I grew up. I have a Hearing Dog called Gerry, he is a black Labrador and very cheeky! But he is just loving and my wee baby! I work at the University of Edinburgh as a Student Adviser, which I have started quite recently.

I wanted to be involved with the advisory group because I am passionate about ensuring that Deaf and Deafblind are more included within society, and have the ability to attend health appointments, hospitals, GPs etc. with no issues or barriers. Also, in Scotland we have the BSL (Scotland) Act 2015 which means there is a legal requirements for services to be more accessible for those who use BSL.

So I would be happy to share experiences and contribute what has been done thus far. I am also excited to meet other people from different regions and compare experiences, share good practice and learn about other processes. So I'm pleased to be involved with the advisory group and excited to work with everyone!

I hope that by using my own lived experiences I am able to channel this into positive change and help SignHealth implement these within their own campaigns moving forward.
Peter Kendall
I live in Kirklees and work as a youth worker in Calderdale. I have just finished my BA in SEND and inclusion. My passion is advocating and campaigning with young people with SEND for their rights. I previously worked with the Calderdale deaf youth Hub. A group formed to support the transitioning of deaf young people into adults and adult services.

My hopes for the group are that we become well recognised as a campaigning group that makes a difference by identifying inequalities and make change. The things I took from the first session are that we are a diverse group with lots of different skills and backgrounds that we could bring together to learn from one another.
Faye Li
Hello, my name is Davina, this is my sign name. One fact about me: I cannot live without painting, because I love it so much.

Now, what am I currently doing? I am studying at a university in America.

So, why am I joining this advisory group? Because I believe that our collective opinions are valuable and should be heard by them, especially in ensuring that the campaign serves us in the best and most inclusive way possible.

Thank you for watching! Bye, take care, all of you.
I work at Nottinghamshire Deaf Society; my role involves various things. One is a BSL Development Officer which involves BSL tutoring, spreading our beautiful language! Another is Deaf Awareness tutor for corporate, community and schools. There are also some small projects like supporting people by giving them information about sign language, especially to hearing parents who have a deaf child.

I also set up a Men's Wellbeing group every two weeks Friday. As well as this, I also work at a children's care home, as a support worker with children who have challenging behaviour and face difficulties with their mental health. I try to support, teach and encourage the children I work with.

Why did I get involved with SignHealth's campaign advisory group? Well, I want to support deaf people and the deaf community out there. I want to contribute towards change for better healthcare for deaf people. Also, better mental health support – which is a big problem for deaf men out there as it is difficult for them to be involved in conversations and get the right support they need.
I am a disability awareness trainer helping businesses become more disability confident. I am also a blogger and public speaker on disability, inclusion and mental health. I draw on my lived experiences of working and living with my profound deafness. Previously I worked for a large corporate where I set up a disability network for over 500 members working with disabilities in the UK and have won several awards for that work.

I am also a disability advocate and I am passionate about raising deaf awareness and challenging misperceptions about deaf people. It's part of my DNA to educate people on what it is like to work and live with deafness. This makes positive changes in people's attitudes towards the deaf community and creates a more inclusive and accessible world.

As that advocate, I joined the advisory group to work with everyone to shape the campaign for addressing inequalities for deaf people. I want to make positive changes by sharing our lived experiences, thoughts and perspectives.
My role is self-employed language support tutor to Deaf clients with English/BSL translation. When I am not doing that, I work at the British Deaf Association as a Board of Trustee. There I am working hard with the team to ensure equality, access and freedom of choice. At the same time, I am working in SignHealth as campaign advisory group.

Why do I want to be involved in this campaign group? Because I have witnessed everyone in Deaf community suffering for a long time with the barriers everywhere. I want to make sure campaigns get through to the government and encourage them to recognise us all in the Deaf community and to see that we have been suffering with barriers that need to be removed. I also want it to be breakthrough. For the quality of our lives to be improving at the high standard that is same as hearing society.
I am a deaf researcher who is passionate about Deaf history and Disability history. I enjoy finding stories in the archives and talking to people about their lived experiences. These perspectives are also important in activism, policy-making and decision-making.

Having grown up in hearing environments, and now exploring my Deaf identity as an adult, I love the depth and breadth of our individual and shared experiences, talents and identities. Collaboration is important to me. I am excited to work with others to make a positive impact with the campaign.
Rebecca Zelic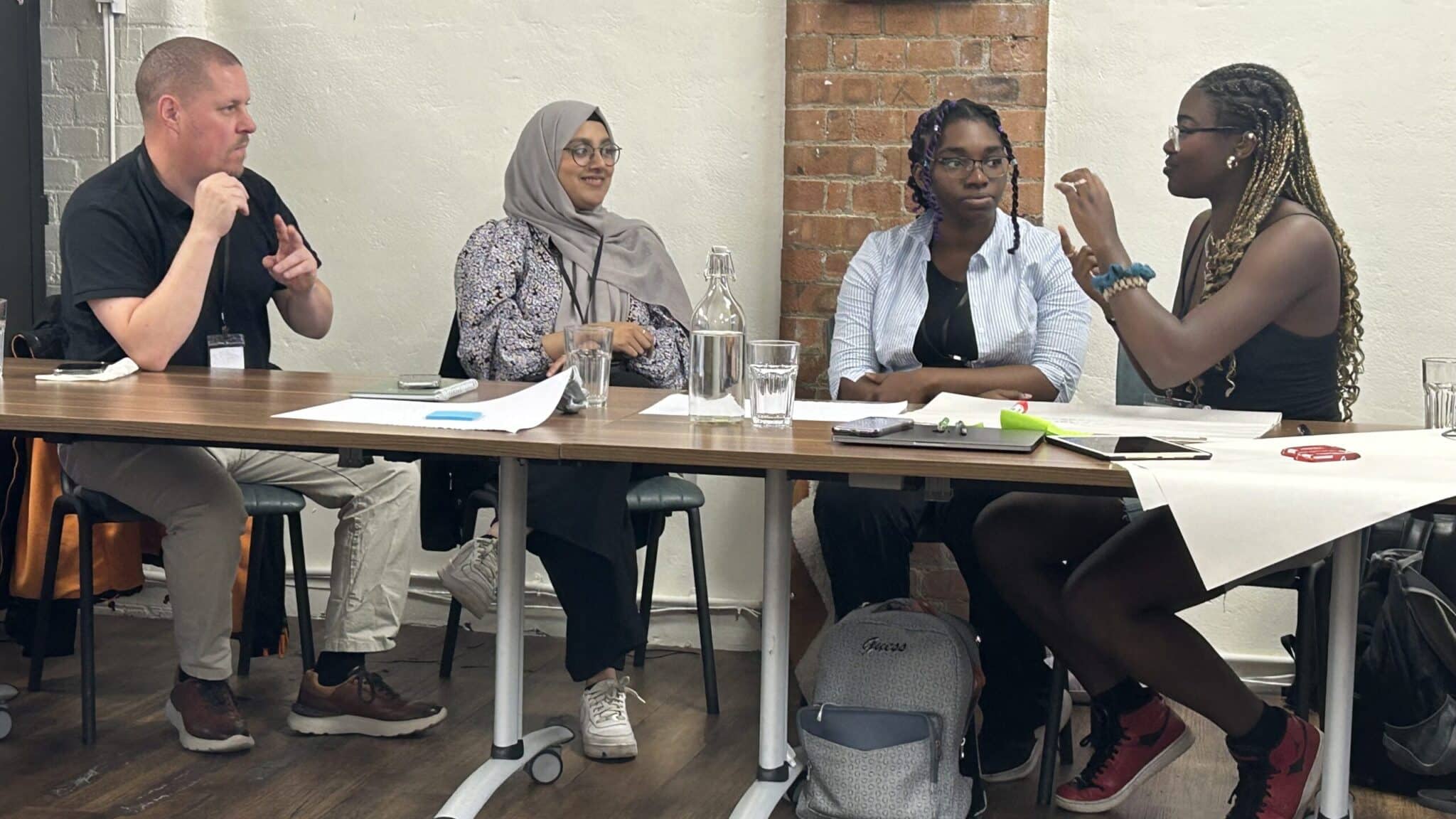 The Campaign Advisory Group meets for the first time!
See reactions from some of the advisors at our first meeting for a new campaign launching in September.